Medium:
Movies/ Bayverse
Fandom:
Transformers
Subject:
General
Title:
Their War, Our World
Warnings:
It's loud ;) Features music from Breaking Benjamin, Linkin Park, Limp Bizkit, Nine Inch Nails and more.
Summary:
A general fanmix covering all three movies…focusing on the conflict between Autobots and Decepticons. An attempt to show the POVs of the mechs (both sides) regarding the fights as well as the capture the movies' general atmosphere.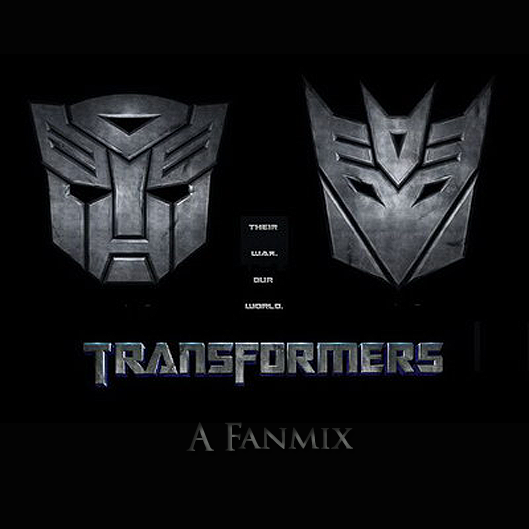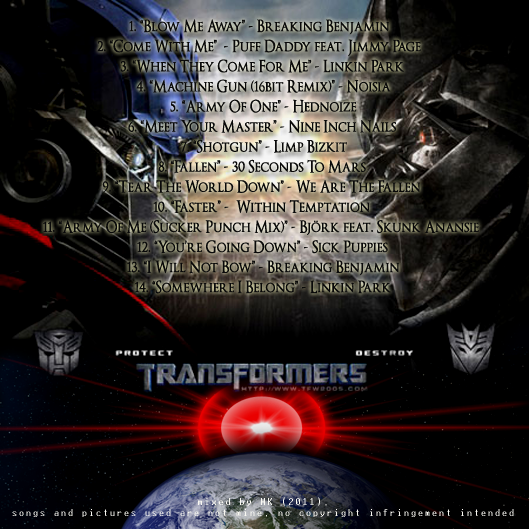 Their War, Our World

1. "Blow Me Away" - Breaking Benjamin
…No time to lose, we've got to move
Steady your helm (I am losing sight again)

Fire your guns, it's time to run
Blow me away (I will stay, in the mess I made)
After the fall, we'll shake it off
Show me the way…

2. "Come With Me" - Puff Daddy feat. Jimmy Page
…Know I'm lacking, backtracking
Where I met you, pistol packing
Itchy finger, trigger happy
Try to trap me, bad rap

Wiretap me, backstab me
Break the faith, fall from grace
Tell me lies, time flies
Close your eyes, come with me
…
I can't let you go, I can't forget it
Why you did it, I won't permit it
I won't acquit it, I wanna to fight you
I'll fuckin' bite you, can't stand nobody like you

You can't run, you can't hide
No surprise, close your eyes
Come with me, yeah
Come with me…

3. "When They Come For Me" - Linkin Park
…And it seems ugly but it can get worse
'cause even a blueprint is a gift and a curse
'cause once you got a theory of how the thing works
Everybody wants the next thing to be just like the first

When they come for me
Come for me
I'll be gone…

4. "Machine Gun (16bit Remix)" - Noisia
Instrumental

5. "Army Of One" - Hednoize
Your my fear
My wonderdrug
My crystal clear
Addiction for

Army of one
Your like an army of one…

6. "Meet Your Master" - Nine Inch Nails
Bow down in position
Against the polished steel
This is something different
You'll like the way this feels
No time for asking questions
No time for wondering
We've had enough of you now
You've heard everything
…
Count down to the end
Gotta make it come faster, faster
Right around the bend
Is a coming disaster
Count down to the end
And we're headed their faster
Come on down my friend
It's time to meet your master…

7. "Shotgun" - Limp Bizkit
…You might know a lot of things, baby, not this
And I'll do it all again for you, watch this
As I lead my ass back to the cockpit

(C'mon!) Now start it up, (c'mon!) let the engine roar…

8. "Fallen" - 30 Seconds To Mars
Yeah, I've been to Jupiter
And I've fallen through the air
I used to live out on the moon
But now I'm back here down on earth
…
Is this who you are?
Some sweet violent urge
A weak fallen man
With the promise of an end?...

9. "Tear The World Down" - We Are The Fallen
I've fought another day,
Lose another chance to break away
From all I cannot bear.
I suffer through through the shame
Wishing hope would just abandon me
Till this is over.

My loveless life
I'm lost in you tonight
Waiting for you to turn around
Only to tear the whole world down.

Time and time again
Take it all and take the fall for you.
Fear is all I hold
Bound and beaten down
All the pain I can't escape today
Is always with me…

10. "Faster" - Within Temptation
I can't see, cause it's burning deep inside.
Like gasoline, a fire running wild.
No more fear, cause I'm getting closer now.
So unreal, but I like it anyhow.

I go faster and faster and faster
and faster and faster and faster and faster…

11. "Army Of Me (Sucker Punch Mix)" - Björk feat. Skunk Anansie
…and if you complain once more
you'll meet an army of me…

12. "You're Going Down" - Sick Puppies
…It's been a long time coming
And the table's turned around
'Cause one of us is going
One of us is going down
I'm not running,
It's a little different now
'Cause one of us is going
One of us is going down…

13. "I Will Not Bow" - Breaking Benjamin
Now the dark begins to rise
Save your breath, it's far from over
Leave the lost and dead behind
Now's your chance to run for cover
…
I will not bow, I will not break
I will shut the world away
I will not fall, I will not fade
I will take your breath away

Fall

Watch the end through dying eyes
Now the dark is taking over
Show me where forever dies
Take the fall and run to Heaven

All is lost again
But I'm not giving in…

14. "Somewhere I Belong" - Linkin Park

…And I've got nothing to say
I can't believe I didn't fall right down on my face
(I was confused)
Looking everywhere only to find
That it's not the way I had imagined it all in my mind
(So what am I)…


Link: http://www.megaupload.com/?d=TVO5ASC5
Re-uploaded: http://www.mediafire.com/?cax5u7bgrii8szm
Everyone feel free to decide for themselves which song fits which Autobot/ Decepticon best :)